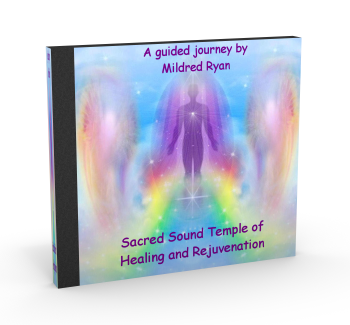 Sacred Sound Temple of Healing and Rejuvenation
A guided sound healing journey, assisted by the Angels and Ascended Masters. Experience a powerful and sacred healing process as you are surrounded by frequencies of love, divine light, sacred geometry and colour.
Listen to a 3 minute sample
Creating a Sacred Sound Temple of Healing and Rejuvenation is an incredibly powerful, deeply healing and sacred process. You can request healing for any part of your physical body, emotions or thought forms, past life or karmic issues, any challenges in your life, or qualities you would like to develop or strengthen.
Track 1: Introduction to healing with sacred sound (9 minutes)
Track 2: A guided meditation to create your own Sacred Sound Temple and receive healing (39 minutes)
I wish you many blessings, vibrant health, happiness, and wholeness of mind, body and spirit.
Mildred
This guided meditation is downloadable in MP3 format,
and is delivered to your email address following purchase.